"What is my role?"
... I asked myself this question as I witnessed droves of people on social media express their frustration with another non-indictment of a police officer who killed an unarmed Black man.
Feeling helpless and frustrated as to whether I should march or picket, I decided to do something else constructive: read.
Reading has always been therapeutic for me, especially when trying to find others in history who attempted to articulate the angst of their times in profound ways. I then decided to read up on Martin Luther King Jr. and his views on injustice. After reading his Letter from a Birmingham Jail, I learned it was eerily addressing all of what was going on in 2017.
As I read through the letter, my mouth fell open. I finally got clarification on how I should respond to everything.
Hence, these are the five takeaways I had from reading Martin Luther King Jr.'s Letter from Birmingham Jail. Each of which explain why fighting injustice and inequality today matters as much as it did in 1963.
1. We are caught in an inescapable network of mutuality, tied in a single garment of destiny: "...Moreover, I am cognizant of the interrelatedness of all communities and states. I cannot sit idly by in Atlanta and not be concerned about what happens in Birmingham. Injustice anywhere is a threat to justice everywhere. We are caught in an inescapable network of mutuality, tied in a single garment of destiny. Whatever affects one directly, affects all indirectly. Never again can we afford to live with the narrow, provincial "outside agitator" idea. Anyone who lives inside the United States can never be considered an outsider anywhere within its bounds."
2. A Justice delayed is in fact a justice denied: "We know through painful experience that freedom is never voluntarily given by the oppressor; it must be demanded by the oppressed. Frankly, I have yet to engage in a direct action campaign that was "well timed" in the view of those who have not suffered unduly from the disease of segregation. For years now I have heard the word "Wait!" It rings in the ear of every Negro with piercing familiarity. This "Wait" has almost always meant "Never." We must come to see, with one of our distinguished jurists, that "justice too long delayed is justice denied.
3. Direct action opens the doors of negotiation and reform: "Why direct action? Why sit ins, marches and so forth? Isn't negotiation a better path?" You are quite right in calling for negotiation. Indeed, this is the very purpose of direct action. Nonviolent direct action seeks to create such a crisis and foster such a tension that a community which has constantly refused to negotiate is forced to confront the issue."".. Direct action seeks to create such a crisis and foster such a tension that a community which has constantly refused to negotiate is forced to confront the issue. It seeks so to dramatize the issue that it can no longer be ignored. …The purpose of our direct action program is to create a situation so crisis packed that it will inevitably open the door to negotiation."
4. Extremism for Love or for Hate: "..Was not Jesus an extremist for love: "Love your enemies, bless them that curse you, do good to them that hate you, and pray for them which despitefully use you, and persecute you." Was not Amos an extremist for justice: "Let justice roll down like waters and righteousness like an ever flowing stream." Was not Paul an extremist for the Christian gospel: "I bear in my body the marks of the Lord Jesus." Was not Martin Luther an extremist: "Here I stand; I cannot do otherwise, so help me God." And John Bunyan: "I will stay in jail to the end of my days before I make a butchery of my conscience." And Abraham Lincoln: "This nation cannot survive half slave and half free." And Thomas Jefferson: "We hold these truths to be self evident, that all men are created equal . ." So the question is not whether we will be extremists, but what kind of extremists we will be. Will we be extremists for hate or for love? Will we be extremists for the preservation of injustice or for the extension of justice?"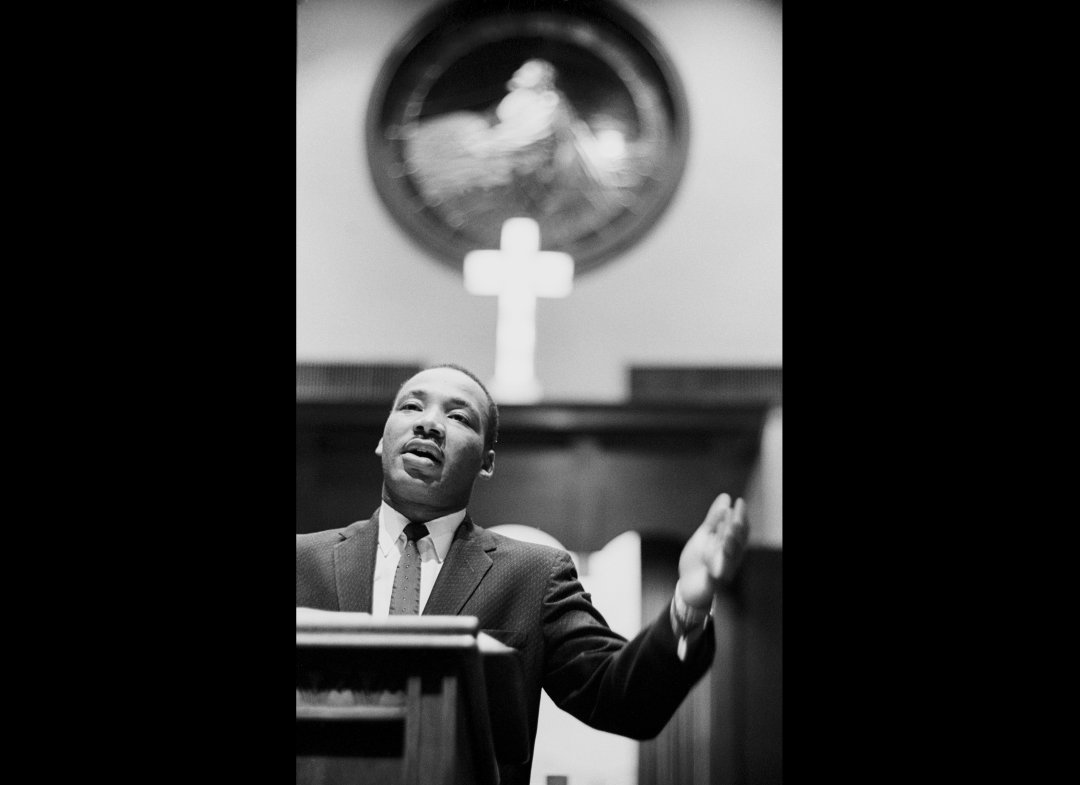 5. The Church will serve as our thermostat: "There was a time when the church was very powerful--in the time when the early Christians rejoiced at being deemed worthy to suffer for what they believed. In those days the church was not merely a thermometer that recorded the ideas and principles of popular opinion; it was a thermostat that transformed the mores of society. Things are different now. So often the contemporary church is a weak, ineffectual voice with an uncertain sound. So often it is an archdefender of the status quo. Far from being disturbed by the presence of the church, the power structure of the average community is consoled by the church's silent--and often even vocal--sanction of things as they are. "If today's church does not recapture the sacrificial spirit of the early church, it will lose its authenticity, forfeit the loyalty of millions, and be dismissed as an irrelevant social club with no meaning for the twentieth century. Every day I meet young people whose disappointment with the church has turned into outright disgust."
Happy MLK DAY!